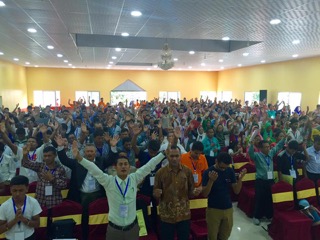 There is Power in the act of prayers
Welcome and be glad in the Name of our Lord Jesus the Christ! Today is an amazing day as we join hands in lifting up the people and programs of Global Advance.
Jonathan had a prophetic word spoken over him recently. Let us stand together in unity of agreement that these words will come to pass according to God's great promises.
Recent word: "Bumper crop. God opening doors. Jonathan entering into a season of rest in the midst of busyness"
Previously, Jonathan had a word spoken that he would have influence in the Pacific Rim. Jonathan has met with, and is meeting with several key business leaders (potentially significant partners) from that area of the world.
In addition, Jonathan asks that we keep in concerted pray that key financial potential be freed from spiritual burden to open the doors of resources and as we do, remember to pray against resistance that is restraining the outflow!
We love you guys and are blessed to stand arm-in-arm with you all!
John and Lisa
Prayer Points – (details below)
Continuing work on the 2016 Dinner
Continuing work on the 2016 Ambassadors' Training
Praise Report on Nepal
2016 Financials
NOTE: Please see information about an upcoming IC gathering
September Trips/Events
2016 Dinner – "Light the Nations"
Pray for all the tables to be hosted and sponsored
Pray that all large sponsors will come through… in abundance
Pray for the hearts of attendees to be open and connect to the ministry of GA
Pray for all the staff and volunteers for energy and protection and health
2016 Ambassadors' Training
Please continue to pray for all the Ambassadors as they come to train and be refreshed in their roles.
Praise from Nepal (from GA Facebook)
"Over 500 Leaders gathered this week in Nepal to receive needed training. 250 of them are receiving training in Church Planting" Let us lift up these that have committed to not only receiving…. but giving. There will be a roar heart around the world as these warriors go out and establish new congregations of believers!
"The Esther Initiative was in Nepal this week! These incredible women are being uplifted and trained through our Esther leadership curriculum so that they are equipped to serve alongside their teams in a nationwide church planting effort. Please pray for these brave leaders who are ready to impact their families, their churches, their communities, and their nation for Christ!
2016 Financials
We know that our Father "owns the cattle on a 1000 hills". Let us come diligently before Him asking for an outpouring of financial blessings. Lisa and I have been praying, and ask you to join us in faith that God will provide a "great flood of resources" for perpetual sustainability of the GA. In other words, so significant enough that fundraising would never have to happen again. Our God is Greater than anything we can imagine and GA IS His ministry. We are believing for Him to allow concerted focus on ministry vs fund raising.
Upcoming IC Gathering
Please check your schedules and see what day/times best meet you ability to attend.
Listed below are the dates and times available. Please respond via email your first, second, third choice of day/time.
All dates are September
20 @ 7pm
27 @ lunch
27 @ 7pm
28 @ 7pm
Frontline Pastors - Igniter
September 12-17 Georgia, Tbilisi Frontline Pastors
September 18-23 Tanzania, Arusha Frontline Pastors
September 21-25 Zambia, Lusaka Frontline Pastors
Frontline Pastors – Implementer
September 16-17 Kenya, Arusha Church Planting
September 4-17 India, Jaipur/Kanpur Church Planting
Marketplace Missions
September 19-24 Peru, Trujillo/Lima/Cusco Marketplace